In February 2021 I signed up with an online surfing fitness coach, Ollie Newton, Founder of the Surf Fit Academy, I was curious as to how on earth it would work, whilst remaining confident that it could. Read on for more about this fascinating journey and how it has helped me in and out of the ocean!
Who was I at when I signed up?

A couple of months ago I was feeling demotivated; lacking focus and direction. I'd lost enthusiasm for most things and could no longer motivate myself, let alone others in the yoga classes I was teaching online.
I needed to fill my cup, which at this time meant investing in myself, upgrading my yoga studies, building strength, and, falling back in love with life.
Living on my own this last year has gifted me large chunks of time to focus on getting set up as a self-employed yoga teacher and artist, but feelings of loneliness and being unsupported were starting to take their toll, I was running on empty.

Ping, light bulb moment. I needed someone to motivate me, to set goals and keep me accountable! A coach. Et voilà, I reached out to Ollie at the Surf Fit Academy. Having enjoyed a free 14 day trial earlier in the year, I could see how his coaching style ticked my needs for goal-setting, positivity, motivation and surf-related fitness training.
With long periods of not being able to surf this last year, I'd been getting frustrated. At the end of each lockdown phase I'd go back to the ocean feeling unfit, and find myself blaming whoever was closing the beaches and imposing Covid-19 restrictions. Waste of energy. This time, I decided to take control, just because the beaches are closed, does not mean I cannot work on my surfing fitness.

So began my online surf coaching journey with Surf Fit Academy.

Getting started
After an initial chat with Ollie, some clear physical and surfing goals were established. A fitness program was personalised created; to build body strength, improve mobility, work on balance and pop up. The first week of testing revealed my upper body was out of balance, the left side was more mobile than the right. I wasn't paddling in circles, but I was definitely not paddling optimally...
As a yoga teacher, I'd developed a yoga practice that I was comfortable with. The waves do not stay still like a yoga mat, these imbalances could be easily disguised on land, but not in the water. My surfing stance revealed flexibility weaknessess, and, overall a need to work on cardio, and regain my power.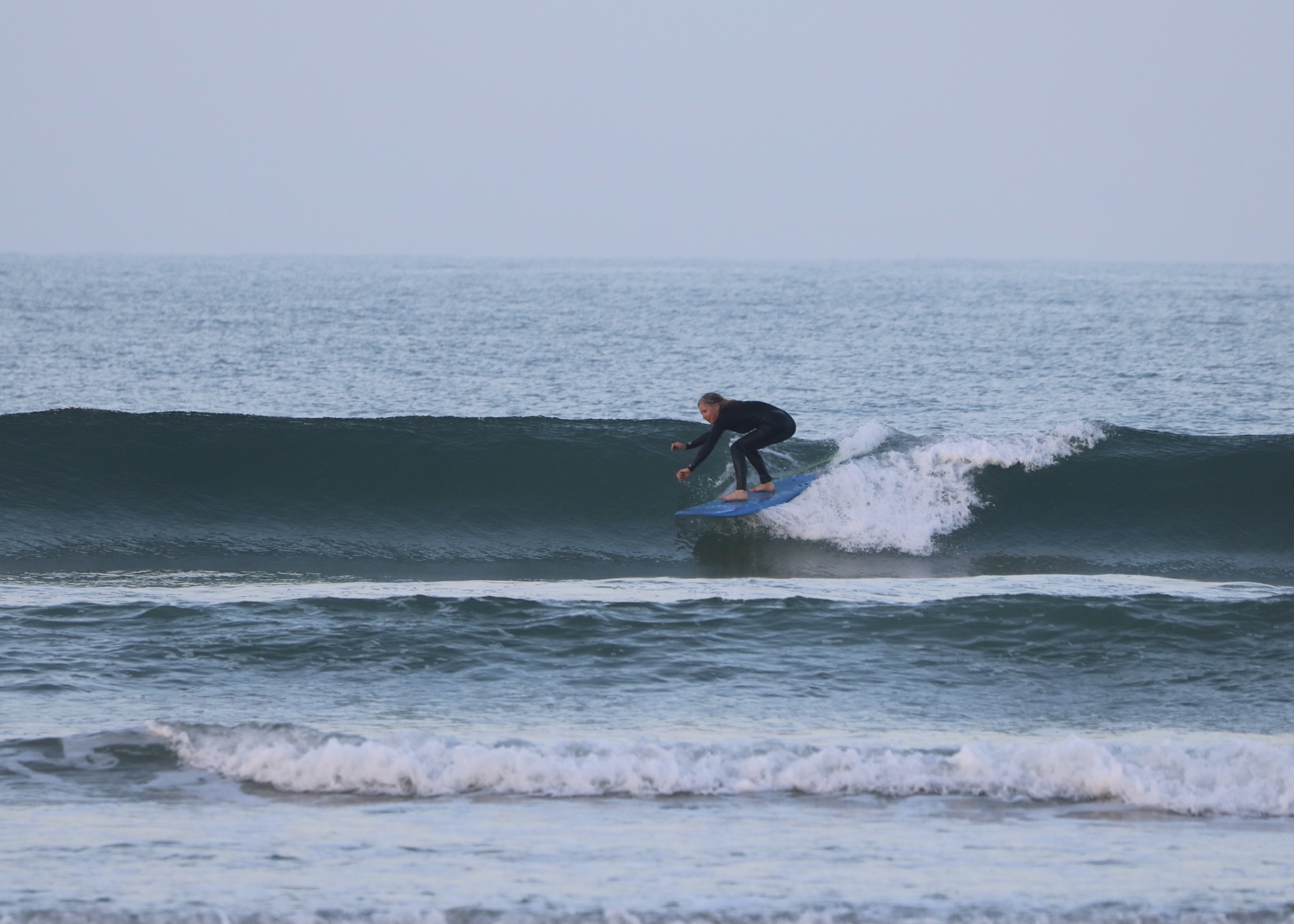 What does the program entail?
Ollie plans a weekly program, which is uploaded to an app. We log results and share videos/photos of my technique and progress via the app. Super simple. Every weekend there's a debrief, and the opportunity to give feedback. After this, he sets fresh goals and a program for the week ahead.
Some days it's intense surf strength building, some days it's running, some days it's mobility exercises. The mobility can feel a little like rehabilitation, which I guess it kind of is, rehab for the habits acquired throughout an at times - sloth-like - lockdown living.
Aside from the physical workout plan, Surf Fitness Academy also offers a nutritional program, interesting talks with guest speakers, and he's created a supportive community of like-minded surfers - we chat via a lively, interesting and supportive What's App group. Sharing wave of the day photos, small and big wins, favourite surf breaks, podcasts. It's a super friendly group and Ollie's invitation 'to give more than you take to the group' really sets the tone.

Specific results
When I first started I could just about do six press ups, last week I did twelve - smooth and with control. I am much stronger in my core, and upper body, and my leg strength has improved significantly. The increase in flexibility in my upper back means I can paddle more smoothly, and also in my hips, means I can get my centre of gravity a lot lower.
I went back to an old 'go-to' yoga sequence the other day, a standing flow which I'd not done since starting the training with Ollie. Wow, what a difference, I felt such an incredible sense of balance, my legs firm. My hips are more open. In the ocean I am able to paddle for much longer, and generally feeler more confident and in love with life!
What's next on the Surf Fit journey?
My latest catch up with Ollie confirmed that Step 1 of the program was to increase my work capacity, as in my ability to do more work, take going from 6 to 12 press ups, and, to fatigue less easily/ quickly.
Now we're moving into Step 2, transitioning to more of a power and speed based surf fitness training program. The aim is make me a faster, more powerful and more agile surfer - and person. Yesterday I sent Ollie a video of my pop up on land, so new goals have been set. I will be working on my upper body power development and lower body stability on land, and, practicing my pop technique in the waves!

Thank you to Ollie and fellow Surf Fit Academy tribe members, such a blessing to have found you - and to be able to share this journey!
Thank you readers for reading, if you have enjoyed, please leave a comment below. And would love you to share and follow this journey via Instagram pages; @sally_kirby and @surf_fit_academy